Travel Information for ITA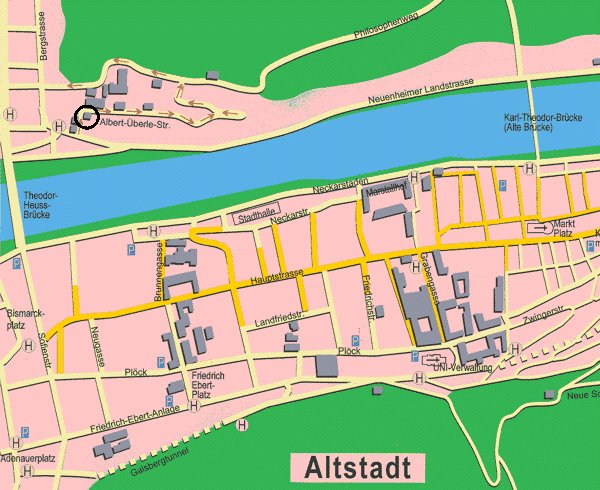 ITA is located on Albert-Ueberle-Straße 2 and at the Philosophenweg 12 in Heidelberg's quarter of "Neuenheim" (see the map to the right). The main building at AU 2 is in the right-angle turn of Albert-Ueberle-Straße. The main building at the Phil 12 is the big old physics building. The ITA is two floors up from the main entrance.
From Heidelberg Central Station
Leave Heidelberg central station ("Hauptbahnhof") through the exit left of the main exit. Bus and tram stops are in front of the gate. Tickets for central Heidelberg ("Großwabe Heidelberg") can be purchased from machines, a ticket counter or the bus/tram drivers. Consider buying a 24-hour ticket ("Ticket 24") or a ticket for five trips ("Mehrfahrtenkarte") depending on what you need. Take either
bus number 34 towards "Ziegelhausen" or 734 towards "Heiligkreuzsteinach" and leave it at "Bergstraße". Albert-Ueberle-Straße is on the opposite side of the street. Alternatively, take
tram number 5 towards "Schriesheim" and leave it at "Brückenstraße", then walk back and turn left into "Neuenheimer Landstraße" and follow it until you see Albert-Ueberle-Straße on the left, or
take any tram or bus line from the central station to "Bismarckplatz", leave it there and walk across the bridge (see the map).
From Frankfurt Airport
There are essentially two ways to reach Heidelberg from Frankfurt Airport. First, there is the
Lufthansa bus
, which stops behind the Crowne Plaza hotel in central Heidelberg. Second, there are trains from Frankfurt airport to Heidelberg via Mannheim. The Lufthansa bus takes about 75 minutes, the train just short of an hour.
From Stuttgart Airport
Take the S-Bahn to Stuttgart main station and switch to regular trains there.
From Hahn Airport
Some low-fare airlines (e.g. Ryanair) serve Hahn rather than Frankfurt airport. Hahn airport is connected to Heidelberg via the
Hahn Express
bus line.
Further Information
Responsible: , last modification Jan/09/2017 09:17 CET